Meni

16mm
black&white
3 minutes
1994

performance: Channa

Screenings:
IFFR (Rotterdam)
Cinémathèque Française (Paris)
Springdance Festival (Utrecht)
EMAF (Osnabrück)
Extrapool (Nijmegen)
Avé Festival (Arnhem)
Filmmuseum (Amsterdam)
De Melkfabriek (Den Bosch)
Gros Plan (Quimper)
Braquage (Paris)
Kunstverein (Würzburg)
Arsenal (Berlin)
Neues Kino (Basel)
Black Box (Dusseldorf)
New Visons (Glasgow)
Film + Video Lab (Warschau)
Time Based Arts (Hull)
Le Jour le Plus Courts (6 cities in France, Algeria and Armenia)
Collectif jeune cinéma (Saint-Ouen)
Nyktalop Mélodie (Poitiers)
Centre National de la Danse (Pantin)
Early Monthly Segments (Toronto)
Zumzeig Cooperativa (Barcelona)
Filmhuis Den Haag (Den Haag)
HIFF (Halifax)

Distribution as short preceding feature:
Filmmuseum (Netherlands)
(combined with Svetlana Proskurina's feature Mirror Reflection)

Broadcast:
Kunstkanaal (Netherlands)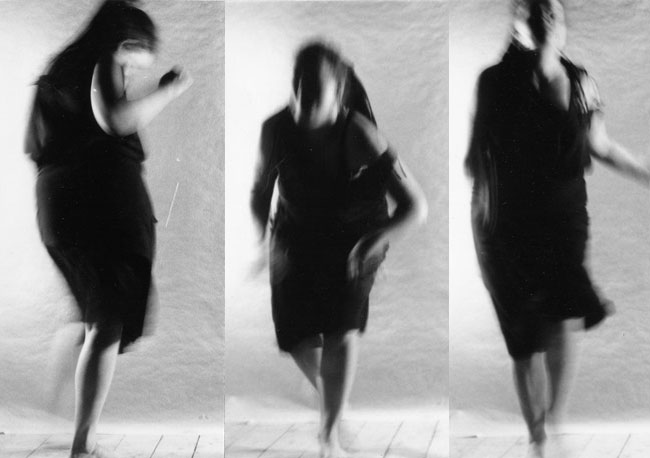 A girl dancing, repetitive movements. Two layers of film superimposed and shifting in a complex rhytm, accompanied by an African drum.

The making of MENI consisted of an obsessive unraveling of a series of dance movements. The movements were cut into very short fragments (0,5 to 1,5 seconds). These fragments were edited into repeating patterns. Through exchanging fragments and double exposure the film begets an intruiging and complex rhythm.