Looking for Apoekoe

16mm
13 minutes
colour
2010

poem: Dorus Vrede
performance: Robbie Caru
Screenings:
Paramaribo SPAN (Paramaribo)
Saamaka Marron Museum (Pikin Slee)
EMAF (Osnabrück)
Leeds Int. Film Festival (Leeds)
Eye Filmmuseum (Amsterdam)
Nederlands Film Festival (Utrecht)
Haags Filmhuis (Den Haag)
Voodoo to Go Festival (Utrecht)
Cinémathèque Française (Paris)
Close Up Film Center (London)
Les Inattendus (Lyon)
Zumzeig Cooperativa (Barcelona)
Analog Farm (Whitworth)
BMIFF (Braziers Park)
Braquage (Paris)
Moving Image Salon (London)
Filmkoop Wien (Vienna)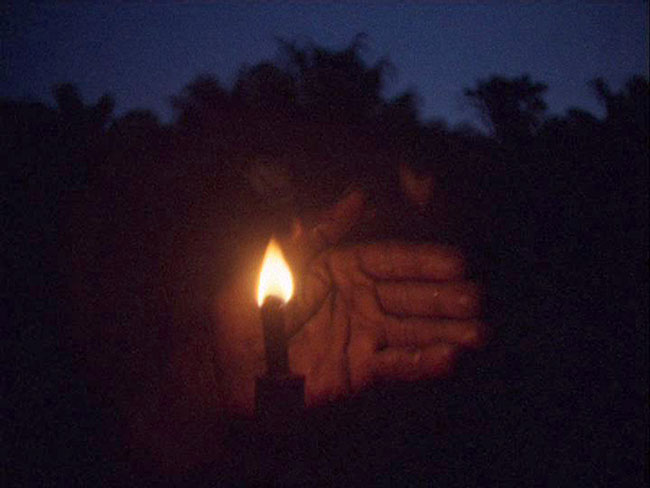 This film was made as a contribution to an exchange program between Dutch and Suriname artist instigated by the Arts Council of Rotterdam. Due to my interest in Dutch colonial history, and my research into the culture of the Suriname Maroons in particular I was given the opportunity to work together with a group of artists based in Pikinslee, a village on the Upper Suriname River.
The bush-spirit Apoekoe is a lively, smart figure taking various shapes and with many special features. He can make you loose your way in the jungle, or take possession of your partner. But he can also help you hunting, and make you invisible to your enemies. He resembles the mythological figure Pan in resourcefulness and deceit. The invisibilty of Apoekoe led me to making a film that circulates around the subject rather then approaching it directly:
A mysterious and enchanting trip to the pristine rainforest of Suriname. Images of the Suriname River, and a monumental Kankantrie tree. Men play the drums, while women sing and dance. The jungle. A man with a gun walking ahead. Around him a wealth of shapes, colors and leaves. An abandoned maroon camp, the different colors of the earth, fruits are scattered. Inside the dense forest. A man looks up with rolling eyes, he runs and jumps. He is sharpening his cleaver, and cuts open a coconut. Chickens and roosters eat their own brood. A woman drinking water from a creek in the woods. Eyes, lips, hands and hair. Smoke, a canopy with various objects. A man walks in the dusk with a small oil lamp.
This project led to a second, more extensive collaborative project; Saamaka.